NativeBag - News, articles and cooperation
Articles
Mysore Silk Sarees-The Epitome of Grandeur
3 months ago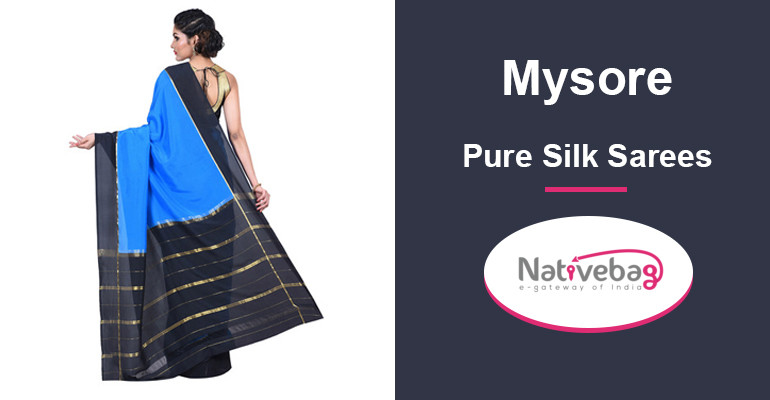 Mysore sarees are one of the sought after sarees which are very famous across the globe. Their origin is from the state of Karnataka which is the chief mulberry silk producer in the country. This adds to the unique features of Karnataka and attracts tourists from different parts of the world. However, now you can find many reputed stores which offer a wide range of Mysore silk sarees online at best prices.
Some interesting facts about Mysore Silk Sarees
The first Mysore Silk factory was started in 1912 by the Maharaja of Mysore Province.

Originally, the factory was started with the motive to fulfil the silk requirements of Royal families and then to meet the ornamental fabric requirements of the armed forces.

The speciality of Mysore silk is that it is made up of genuine silk, 100% pure gold zari, 65% of silver and 0.65% of original gold.

KSIC is the only organization in India having authority on entire spectrum of silk production, from reeling of cocoons to the weaving of pure silk fabric.

More than 115 different varieties of Mysore silk sarees in more than 300 eye catching shades are designed by KSIC.
Buy Mysore Silk Sarees Online
The Indian women's wardrobe is incomplete without Mysore silk sarees. Lustrous and vibrant Mysore silk sarees enhance femininity and make the women look more graceful. The natural lustre and rich texture of the genuine Mysore silk and pure gold zari gives these sarees their distinctive features. There are some exclusive shops in Karnataka which mainly sell genuine Mysore silk. But now you can find many good Mysore silk sarees online stores where you will get innumerable varieties on one platform and buy your preferred one from the comfort of your home. On the Mysore silk sarees online shopping sites, the original Mysore silk sarees can cost somewhere between Rs. 3,000 and Rs. 7000. The more expensive ones can go beyond Rs. 100,000. As far as the prices are concerned, Mysore silk sarees may fall on the heavier side but the beauty and flamboyance of these sarees make them worth every penny.
Mysore silk sarees can cater to the taste of every women. The numerous patterns of Mysore silk in both traditional and modern designs will make your Mysore silk sarees online shopping experience absolutely memorable.